A crypto analyst has presented their forecast for where they believe the Bitcoin price will be by the end of 2023. However, the end-of-year (EOY) price prediction is not the only interesting thing that the analyst talks about, with short-term expectations also included.
Hoops To Jump Through For Bitcoin Price
Pseudonymous crypto analyst Titan of Crypto took to X (formerly Twitter) to share their latest prediction for the Bitcoin price. This analysis uses the Ichimoku point of view to analyze a Tenkan Cajun (TK) death cross that appeared on the Bitcoin price chart.
The importance of this TK death cross is what happened to the digital asset's price the previous times it has appeared. According to Titan of Crypto, this exact death cross has appeared twice in the past two years, and each time, the outcome has been bearish for the Bitcoin price.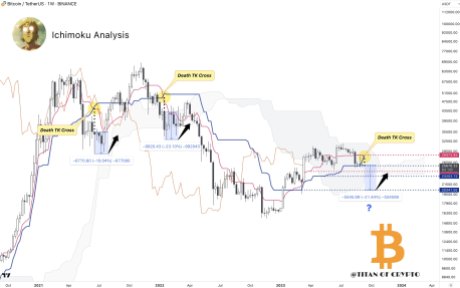 BTC falls 20% whenever the TK death cross appears | Source: Titan of Crypto on X
As the analyst points out, Bitcoin had dropped an average of 20% when the TK death cross appeared both in June 2021 and January 2022, which does not bode well for the price right now. So another occurrence could see the Bitcoin price fall around 20% from its already low levels.
The analyst also points to the packed week in terms of economic announcements such as the CPI and PPI, among others, which could have an adverse effect on the crypto market depending on their outcome. Such a drop as previously recorded could easily see the price drop to $20,300 the analyst points out.
BTC price recovers above $26,000 | Source: BTCUSD on Tradingview.com
BTC Will End The Year On A Good Note
Despite the incredibly bearish outlook that has formed for the Bitcoin price, especially in the short term, it is not all gloomy, according to Titan of Crypto's analysis. For one, the analyst does not expect the price of the digital asset to fall any lower than its already established bottom back in 2022. This means that even though the analyst sees BTC returning toward $20,000, it won't make a new bottom.
Furthermore, the analyst also sees the cryptocurrency finishing out 2023 on a high note. In the same analysis, he points out that he expects Bitcoin to cross $30,000 by year's end. "Overall I believe that Bitcoin is going to go up and gravitate/pass the $32k level by EOY," the tweet reads.
Going by this forecast, even if Bitcoin does fall to $20,000, the digital asset could see a more than 30% rise before the year is out. "But this scenario hasn't played out yet and a lot of support needs to break before hoping for such a low price for #BTC," the analyst explains in a follow-up tweet.
Featured image from iStock, chart from Tradingview.com