Less than a week after Vitalik Buterin, one of the co-founders of Ethereum, sold his Maker (MKR) stash for ETH, one crypto whale has done the opposite. On-chain data on September 4 shows that one Ethereum holder sold 694 ETH, worth roughly $1.13 million when writing, for 1,010 MKR. At the time of the swap, MKR was changing hands at $1,122. 
Whale Swaps ETH For MKR
As of September 4, the address, "0x3737," had over $20.37 million worth of assets. While the whale trades against Vitalik and doubles down on MKR, zooming in on the address's portfolio shows that the largest holding is ETH. 
The address holds 10,000 ETH worth $16.3 million at spot rates, representing over 75% of the total portfolio. Meanwhile, some of his other major holdings include Arbitrum (ARB), worth $2.9 million, and MKR, worth $1.1 million. 
MKR, the token issued by MakerDAO, the decentralized autonomous organization (DAO) that controls the minting of DAI, a stablecoin on Ethereum, has been ripping higher in the last few months. 
MKR plays a key role in stabilizing DAO and is used as a last resort. Holders participate in governance, voting on proposals that best stabilize the algorithmic stablecoin, deciding collateral types accepted, stability fee adjustments, and others.
From June, MKR has more than doubled, rising 125% to peak at around $1,300 in early August. It is now trading at over $1,100, up 13% from August lows.
Maker Presents Endgame
The token's surge has been attributed to multiple factors, specifically the release of the "Endgame" roadmap. Under this plan, MakerDAO plans to, among other things, release their blockchain, rebrand, and introduce two more tokens. 
This move is significant because MakerDAO is among the first decentralized finance (DeFi) protocols. According to DeFiLlama data, the protocol has a total value locked (TVL) of over $5 billion. It is the largest decentralized money market in the world.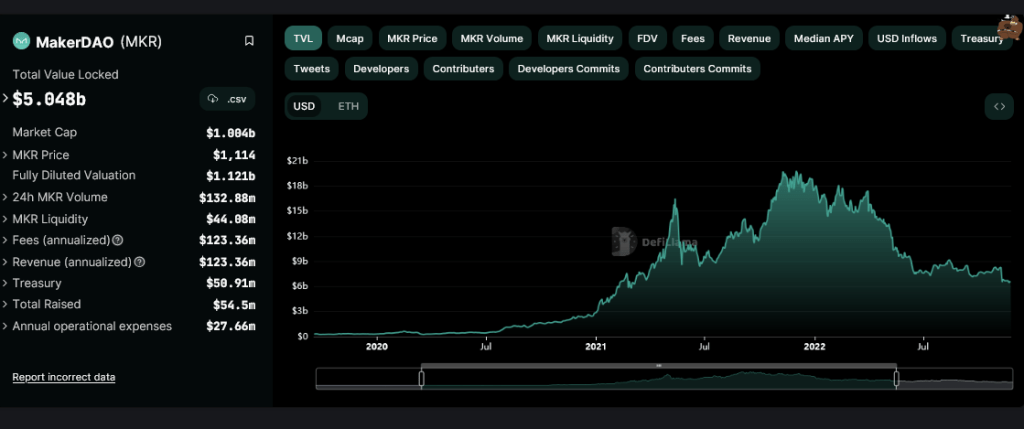 Meanwhile, DAI, its algorithmic yield-earning stablecoin, has been stable recently and is the largest in Ethereum. At press time, DAI had a market cap of $5.3 billion, perched at 12th on the leaderboard. At this pace, DAI is the third-largest stablecoin after USDT and USDC.
Vitalik Buterin, despite the stellar performance of MKR relative to the broader crypto market, liquidated $580,000 worth of MKR after MakerDAO's co-founder, Rune Christensen, said it was considering launching a new blockchain bridging to Ethereum that's based on Solana's code. The new blockchain, dubbed NewChain, is part of MakerDAO's roadmap, "Endgame".
Feature image from Canva, chart from TradingView