In a crucial development for the financial markets, the US Dollar Index (DXY) has surged to its highest level since March, marking a pivotal moment for Bitcoin and the broader crypto sector. The DXY, which gauges the Greenback's performance against a basket of six major currencies, has extended its gains above the 104.000 mark in the past four day, reaching a five-month peak at 104.907. At press time, the DXY was trading at 104.773.
From a technical standpoint, the DXY has exhibited a bullish bias, especially after surpassing the 200-day Moving Average (DMA) on Thursday last week. For the DXY to solidify its bullish stance, it needs to surpass the year-to-date (YTD) high of 105.882, which would then bring the 106.000 mark into focus. Surpassing this level could set the stage for the DXY to challenge the November 30 daily high of 107.195 and potentially rally towards March's 21 high of 107.993.
However, on the flip side, if the DXY were to dip below 104.538, it could trigger a correction, targeting the 200-DMA (currently at $103.326). In the short term, while the DXY remains bullish, it must breach the 38.2% Fibonacci retracement level at $105.368.
Renowned macro analyst Henrik Zeberg weighed in on the DXY's trajectory, predicting that DXY bulls shouldn't get too excited, "I just love this BEARISH – bullish move in DXY. Let the DXY Bulls get overly excited! Exactly what is needed for the reversal. 106.0 – 106.3 (is key)."
How Will Bitcoin Respond To DXY's Strength
The inverse correlation between Bitcoin and the DXY has been a topic of interest in recent years. With the DXY's recent surge, concerns are mounting about potential downward pressure on Bitcoin and crypto in the short-term. Some analysts believe that another uptick in the dollar could push Bitcoin towards the $23.500 mark, especially given the relatively low levels of open interest (OI) and volume for BTC.
Glassnode founders Yann Allemann and Jan Happel provided insights into Bitcoin's outlook, noting, "Mid-term outlook: Favorable risk/reward, but short-term, uncertain ($25.8k – $26.8k). Possible downside ($23.8k – $24.8k) due to bearish trend. Signs of bottoming: RSI bullish divergence, fading volatility. […] We're close to the bottom, but the environment is still unstable."
Elaborating on the current market conditions, they added, "We're in an unstable environment. Wait for the dip or buy the breakout. Bitcoin Risk Signal near extremes. $25.8k – $26.8k is No Man's Land. The mid-term risk/reward is favorable for BTC and crypto." Moreover, they predict that Bitcoin will bottom out in mid-September when the DXY reaches its top, setting Bitcoin and crypto up for a stellar October.
At press time, BTC price remained stagnant below $27,800.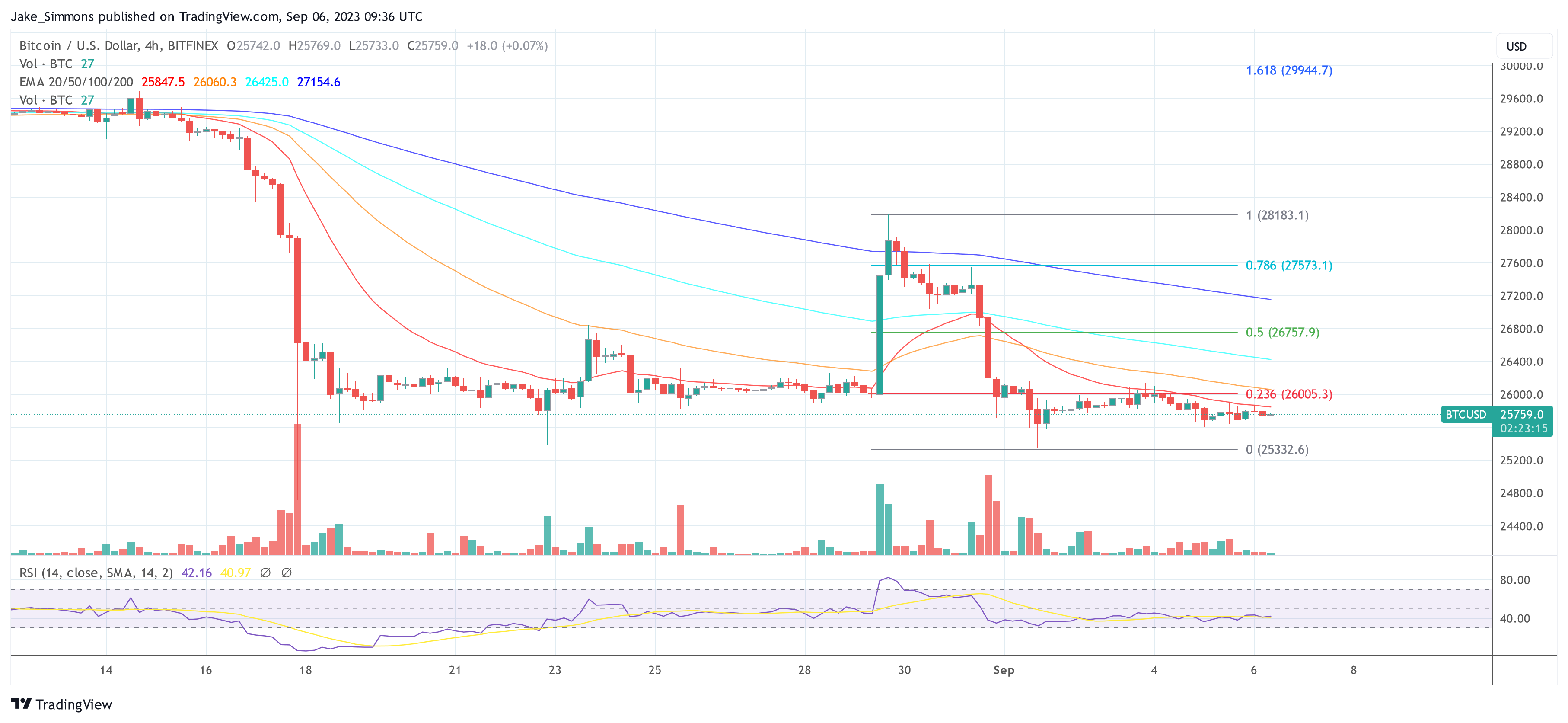 Featured image from iStock, chart from TradingView.com