Stealth startup Favs raises ~$1M for its close-friends-only social network | TechCrunch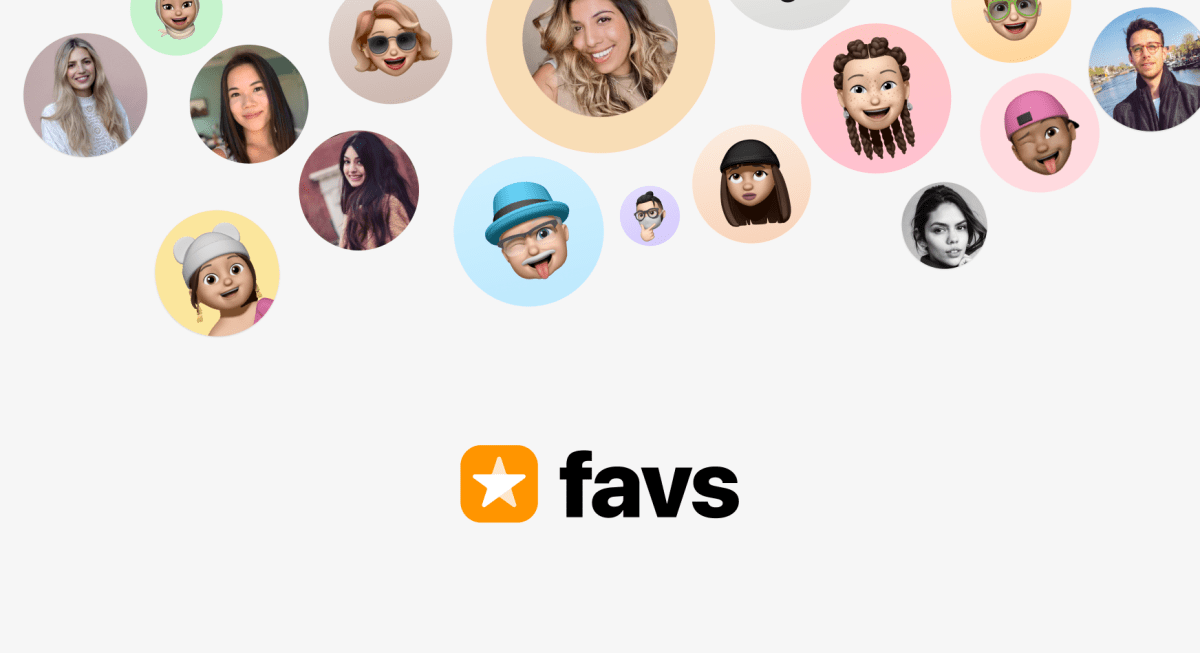 Over the years, social media has moved further and further away from its original value proposition of being a network where you could keep up with close friends and family in a private space. Instead, today's apps are entertainment giants, filled with creator content, multimedia and brand advertisements. A new social network, Favs, emerging from stealth next January, wants to bring social networking back to its roots by building an app that helps people maintain strong and meaningful connections with one another.
How exactly it plans to do so is part of Favs' yet-to-be-revealed secret sauce, but remarkably, Favs plans to offer an app without a status update box, a news feed or an inbox. Nor will it be centered around common functionality like photo-sharing, as other newcomers to the market like BeReal have embraced.
Instead, Favs intends to offer a lightweight experience that doesn't demand ever-increasing time spent using its app in search of ad dollars and revenue.
Explains co-founder and CEO Saba Karim, formerly the head of pipeline at Techstars, Favs won't encourage doomscrolling or unlimited content, but will rather try to limit the time users spend in-app.
"We want to keep the user off the app after 10 minutes of use, saying, go for a walk — you're done for the day. Come back tomorrow to see what's going on in your friends' lives," says Karim. "We don't want to create an addiction. For many years, it's just been the wrong focus for social which is, again, eyes on screen," he continues. "All of our investors love us and agree that social media needs a big change," he adds.
The LA-based startup, which is co-founded by former Meta business engineer Noah Mitsuhashi, has already raised a pre-seed round of close to a million dollars from LA-based Sunset Ventures, Kleiner Perkins Scout Fund, plus angel investors including founder and CEO of Techstars David Cohen, Hootsuite founder and former CEO Ryan Holmes, and others.
Karim says he was inspired to build a social network after spending his last five years at the Techstars accelerator — a role he landed after his former startup exited to HubSpot. At Techstars, he examined somewhere between 50,000 to 60,000 companies every year and felt he had a good grip on the startup landscape.
But he had kept a particularly close eye on the consumer social space and saw the growing demand for networks that were re-focusing on real-world friendships and connections, like Rex, Moments, Catchup and Retro.
"Social media today is really full of ads, brand creators and influencers," he says. "That's not a bad thing. I enjoy that. But I feel like there's too much noise — where's my friends in it?"
Karim notes that social media algorithms are optimized to keep users swiping, which can lead to too much superficial content and not engagement with the folks people really care about. This may grow ad revenue for the business, but leaves users dissatisfied with the experience.
How exactly Favs aims to disrupt this paradigm is something Karim isn't yet ready to share, saying only that the network will focus on friends' updates and what's really going on in their lives. However, we understand Favs may share some broad similarities with apps like Catchup and Moments, in that it will smartly remind you when it's time to reconnect with friends, but in a different way than they do.
It will also make use of the iPhone's Dynamic Island and potentially other iOS features, but it won't leverage AI in a consumer-facing format.
Instead, Favs will scour your contacts to determine who are most likely your closest connections by examining those whose profiles are more filled out or that include a photo, then provide a way for you to keep up with their updates — even if they're not using the app.
Solving for this "cold-start" problem is one of the challenges novel social networks face, as they aren't useful to many people until they reach a critical mass of users. Favs aims to change that, too.
"We've come up with a way for you to interact in a whole new way that no social media in the world has ever done," Karim claims. He says you don't have to worry about who has or hasn't joined yet. "Users will not feel like there's nothing to do on day one, even if no one has joined," he teases.
This could involve leveraging the APIs from other larger social networks, like Instagram, to highlight friends' recent updates, but Favs promises it's more than just an aggregator.
Given its plan to be used as little as possible, Favs doesn't intend to leverage advertising to monetize. In fact, the app's business model may be a little controversial among VCs, it seems.
"The moment that we shared the business model, investors were either in or out," the founder says.
But, as it turns out, enough investors were in for the app to raise its nearly $1 million pre-seed and it's already receiving inbound for a seed, despite not needing those funds until next June. That's led Favs to plan to kick off its seed round in November, given the interest.
For the time being, Favs is in a private beta but is inviting users in through its Favs VIP waitlist. The app plans to launch publicly in January 2024.