After testing it for months, Sony AI and Polyphony Digital announced the global release of Gran Turismo Sophy 2.0, an innovative AI racing agent in the Gran Turismo 7 (GT7) PlayStation racing simulation game.
This release marks a pivotal achievement in the realm of AI-driven gaming experiences where AI can challenge both average players and some of the best virtual drivers in the world, said Michael Spranger, president of Sony AI, in an interview with GamesBeat.
Gran Turismo Sophy 2.0 is an update to the world of racing simulations, specifically designed for players with a PlayStation 5 console. This feature, part of the GT7 Spec II Update (Patch Update 1.40), enables players of all skill levels to compete against an autonomous AI agent. Unlike its initial limited-time release, GT Sophy can now handle more than 340 cars on nine different tracks, covering a remarkable 95% of player car models.
Starting November 1 at 11 p.m. Pacific time, players can experience the excitement of racing against GT Sophy 2.0 in the Quick Race mode (formerly known as Arcade mode). The selection of GT Sophy's cars is automatic, based on the player's choice from their garage.
Event
GamesBeat Next On-Demand 2023
Did you miss out on GamesBeat Next?  Head to our on-demand library to hear from the brightest minds within the gaming industry on latest developments and their take on the future of gaming.
The journey of GT Sophy began as a research project with a goal to create a superhuman AI agent capable of outperforming the world's best drivers in Gran Turismo Sport. This initial achievement demonstrated how AI could bring new and thrilling gaming experiences to top players. However, Sony AI recognized the need to balance GT Sophy's capabilities to offer a dynamic experience for all GT players while maintaining the game's hyper-realism.
"We have evolved GT Sophy from a research project tackling the grand challenge of creating an AI agent that could outperform top drivers in a top simulation racing game, to a functional game feature that provides all game players a formidable, human-like opponent that enhances the overall racing experience," said Spranger. "From the beginning, our mission at Sony AI has been to advance the research and development of AI to enhance human imagination and creativity as well as entertainment experiences. This new milestone for GT Sophy showcases our work to support this mission as well as our close partnerships with creators to leverage AI in a unique way to develop new, enriching experiences."
The release of GT Sophy earlier this year, controlling four cars in a race on four tracks, allowed Sony AI to gather valuable feedback from players worldwide. This feedback guided the integration of GT Sophy as a permanent feature in the game, reflecting players' desires for a version that caters to all skill levels. GT Sophy 2.0 now boasts a broader range of behaviors to create unique racing experiences for every player.
Kazunori Yamauchi, president of Sony's Polyphony Digital studio, which makes the Gran Turismo games, said in a statement, "GT Sophy is a revolutionary new technology that will change the way players experience racing games. It is a key element in keeping Gran Turismo exciting beyond its 25-year history. We are very satisfied with this achievement and am looking forward to seeing GT Sophy evolve even further in the future."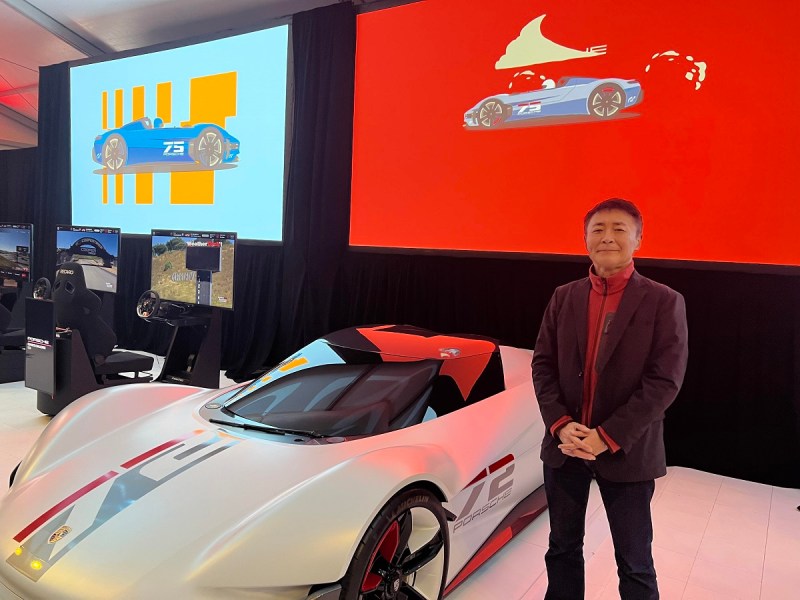 I recently interviewed Yamauchi at the Porsche Rennsport Reunion racing exhibition at Laguna Seca, where there was both a live race in real life as well as a Gran Turismo esports tournament.
Yamauchi also told me that the AI has become very competitive when it comes to racing against the best human drivers. He noted that the human drivers are beginning to learn things from the AI, which debuted in limited form February 2023 as AI racing agent GT Sophy.
The winner of that Porsche Esports Challenge USA tournament, Randall Haywood, told me he is quite convinced that AI won't beat human drivers. Right now, he can beat the AI racing agent easily and he thinks the best competitors are still human drivers.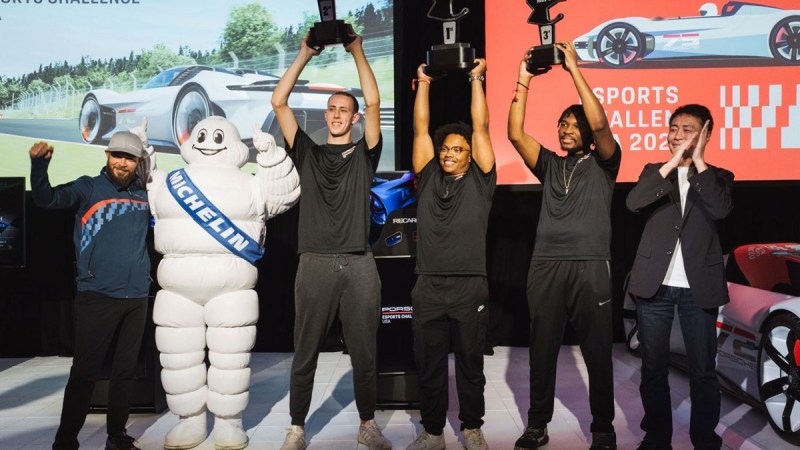 "Sometimes you can use the AI to help you because it helps you see how much slower or faster some of the strategies are when you're testing them," he said.
Haywood, who beat 36,000 other human drivers in the tournament, said that he would love to be a pro racer one day, but he hasn't had as much time to dedicate to that as he would like to. He holds down a regular job and practices Gran Turismo when he can. But it's no longer a crazy notion that a video game driver can become a pro racer. In fact, the Gran Turismo film is based on the true story of Jann Mardenborough, who started playing the game and became a pro racer. The film generated $119 million at the worldwide box office so far.
The development of GT Sophy was also featured in a three-part documentary series, "The Team Behind GT Sophy," which was selected as part of the 22nd Tribeca Festival's Tribeca X Competition in 2023. These films provide a behind-the-scenes look at the development process and the achievements of the GT Sophy team.
How Sony AI approached GT Sophy 2.0
Sony AI, a division of Sony Research, aims to harness the power of AI to unleash human imagination and creativity. With four flagship projects focusing on gaming, imaging & sensing, gastronomy, and AI ethics, Sony AI is dedicated to advancing AI technology and transforming Sony into an AI-powered company.
Peter Wurman, director of Sony AI America and project lead on GT Sophy, said in an interview with GamesBeat, that Sony AI didn't have numbers to share on just how good GT Sophy performed against human players in its test run. But he noted that the experience was designed to make it "enjoyable for a variety of players." The aim wasn't to crush them in an all-out AI vs. human battle.
Wurman noted that one pattern was that the best human drivers tried to get the inside track on the first corner and beat Sophy to the first position. Then they would drive defensively for the rest of the race because once it passed them, they didn't feel like they could catch it.
Spranger said one of the key targets of the project is to make sure players can learn how to get better at mastering Gran Turismo. Wurman said the company is still figuring out how to learn from all of the data being generated by humans racing against the AI. It's also interesting that many pro racers will learn how to race on a new track by racing in a virtual simulator, rather than stepping out on to the real track cold.
GT Sophy has learned how to drift in a Lamborghini, Wurman said. In fact, it could learn how to go into a corner, throw the car into a spin, and then finish with the car pointing toward the exit of the corner. That's pretty fancy driving.
Of course, GT Sophy uses considerable AI processing, and if it were running on a supercomputer, it could be better and more efficient. But Gran Turismo has to run on the PlayStation 5, and that means Sophy cannot consume all the computing resources of the machine.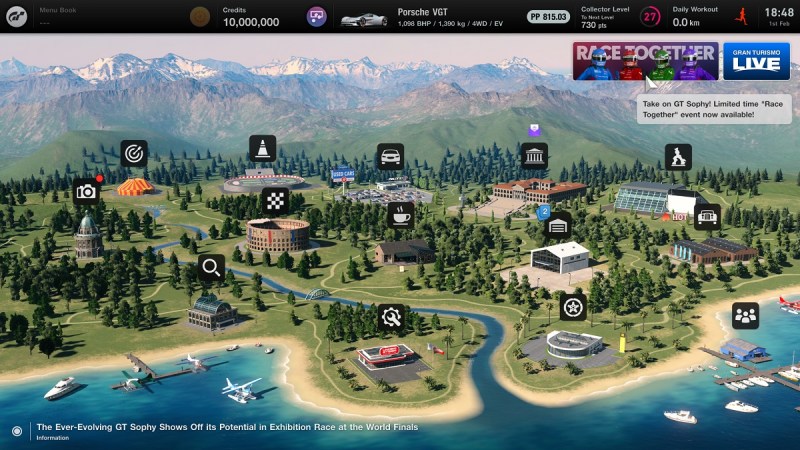 Wurman said he still thinks of Sophy 2.0 as an experiment, as the team can still do more research and lern more. Now there will be many more drivers around the world where Sony AI can collect racing data. In turn, Sony will be able to offer tips and guidance and better tutorials.
"There are many things we can look at," Spranger said.
He said that players are definitely learning new strategies for racing from the AI, which can adapt on the fly and react to players in a race. Spranger said he is very interested to see what the game developers — artists, designers and engineers — will do with this new technology from Sophy as well as generative AI.
"This technology could have a lot of impact on how games are produced and many other contents is produced. But what's important to us is that this is done in collaboration with people who to build things or design things or craft them," Spranger said.
Wurman said, "What's interesting about the evolution of Gran Turismo is for the last 25 years of the work has been making it more realistic, with cars more accurately rendered and more realistic physics. But they built in technologies for making the races exciting. That's pretty limited. And so GT Sophy fills that gap."
GamesBeat's creed when covering the game industry is "where passion meets business." What does this mean? We want to tell you how the news matters to you — not just as a decision-maker at a game studio, but also as a fan of games. Whether you read our articles, listen to our podcasts, or watch our videos, GamesBeat will help you learn about the industry and enjoy engaging with it. Discover our Briefings.