Polygon (MATIC), one of the prominent players in the cryptocurrency market, has faced a turbulent period as it lost its grip on the $0.60 mark, leaving investors and traders on edge. 
As of the latest data available, MATIC was trading at $0.540840 on CoinGecko, reflecting a 1.4% slip in the past 24 hours and a 0.6% decline over the last seven days. This dip in price has sparked discussions about the coin's immediate future.
The cryptocurrency market has been characterized by considerable uncertainty, with Bitcoin (BTC), the bellwether of the industry, also grappling with price fluctuations. Analysts suggest that BTC might enter a narrow consolidation phase before establishing a clear direction in the coming week. 
Given this backdrop, MATIC could follow suit by consolidating above the critical support level of $0.50 before attempting an upward move toward the 50-EMA (Exponential Moving Average) at either $0.60 or $0.65.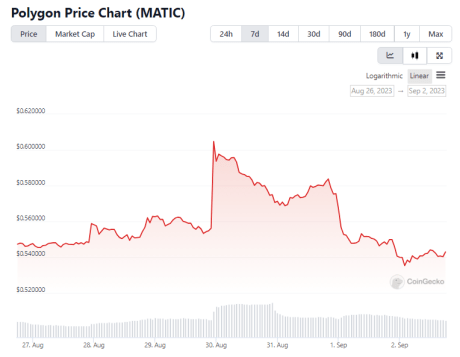 MATIC seven-day price action. Source: Coingecko
Polygon Key Chart Indicators Raise Concerns
Technical indicators have painted a cautious picture for MATIC. The Relative Strength Index (RSI) remains in the lower range, signifying bearish momentum, while the Chaikin Money Flow (CMF) has struggled to breach the zero level, indicating limited capital inflows and heightened selling pressure.
Additionally, the On-Balance Volume (OBV) has slightly dipped, further suggesting a waning demand for MATIC in the current market conditions.
In the midst of this market turbulence, Polygon has made an intriguing proposition. In July, the project unveiled plans for a token upgrade aimed at enhancing the capabilities of MATIC holders within the Polygon ecosystem. 
MATIC market cap currently at $5.6 billion. Chart: TradingView.com
Polygon's Ambitious Proposal
The proposal seeks to enable MATIC holders to validate transactions on multiple blockchain networks, potentially increasing their utility and influence. However, it's important to note that this proposal is currently pending approval from the Polygon community.
If this proposal receives the green light, it would mark a significant shift for Polygon, as the coin would transition from MATIC to POL. Such a transition could have far-reaching implications for both the Polygon network and its community of users, potentially influencing MATIC's price dynamics in the long run.
Polygon finds itself at a critical juncture amid the recent market turbulence. While the short-term outlook remains uncertain due to negative chart indicators and wavering demand, the potential token upgrade proposal from Polygon offers a glimmer of hope for MATIC holders. 
As traders and investors closely monitor market developments, the path forward for MATIC will largely depend on broader market trends and the community's decision regarding the proposed upgrade.
(This site's content should not be construed as investment advice. Investing involves risk. When you invest, your capital is subject to risk).
Featured image from Bizz Buzz