Cardano is one of the most actively developed blockchains with an ambitious roadmap. Its native ADA token has seen immense growth since launching in 2017. This article explores what's next for Cardano prices.
What is Cardano (ADA)?
Cardano is an open-source proof-of-stake blockchain network founded by Ethereum co-founder Charles Hoskinson in 2015. It aims to provide fast, secure, and scalable blockchain transactions through leading research and development.
The Cardano blockchain is divided into layers handling different functions:
Cardano Settlement Layer (CSL) handles peer-to-peer transactions using the native ADA cryptocurrency.

Cardano Control Layer (CCL) runs smart contracts allowing decentralized apps and protocols.
Some key aspects of Cardano include:
Proof-of-stake consensus
Cardano uses an Ouroboros PoS algorithm that is less energy intensive than PoW blockchains.
Research-driven approach
Cardano takes a science and philosophy-based approach for robust protocols.
Multi-phase roadmap
Cardano is being developed systematically in stages as part of a long-term strategy.
Governance model
ADA holders can vote on Cardano Improvement Proposals to determine future upgrades.
Significant capabilities
Cardano aims to rival Ethereum as the leading smart contract platform once development completes.
Due to its organized development path, Cardano proponents believe it can achieve the vision of becoming the most advanced blockchain.
Factors Influencing Cardano's Price
Several core factors impact Cardano prices and market outlook:
Cryptocurrency Market Trends
Like most altcoins, Cardano's price depends significantly on the performance of top cryptos Bitcoin and Ethereum. Rising crypto markets lift ADA. Bullish Cardano news also can have an impact. 
Project Roadmap Progress
Cardano hitting major roadmap milestones like launching smart contracts demonstrates real-world viability and boosts ADA price.
Adoption By Developers
As developers build dApps, DeFi protocols and NFT projects on Cardano, utility grows along with demand for ADA tokens.
Staking Participation
Higher staking uptake increases locked ADA supply reducing selling pressure and potentially raising prices.
Competition
Interoperability blockchains like Polkadot and Cosmos or faster networks like Solana threaten to erode Cardano's market share which impacts growth potential.
Upgrades and Governance
Smooth upgrades through community governance signals stability and reliability, instilling confidence in the network and ADA price.
Major Cardano Price History Developments
Cardano is still early in its developmental journey. Here are key highlights so far:
2017 – Shelley Era Begins
ADA tokens were first made available in early 2017, trading around $0.02 during the initial months. As the crypto market surged, ADA hit an all-time high of $1.33 in January 2018 before declining with the broader market.
The Shelley phase of decentralization development began, with staking and community governance capabilities being built. This marked a major step towards realizing Cardano's vision.
2018-2020 – Bear Market Consolidation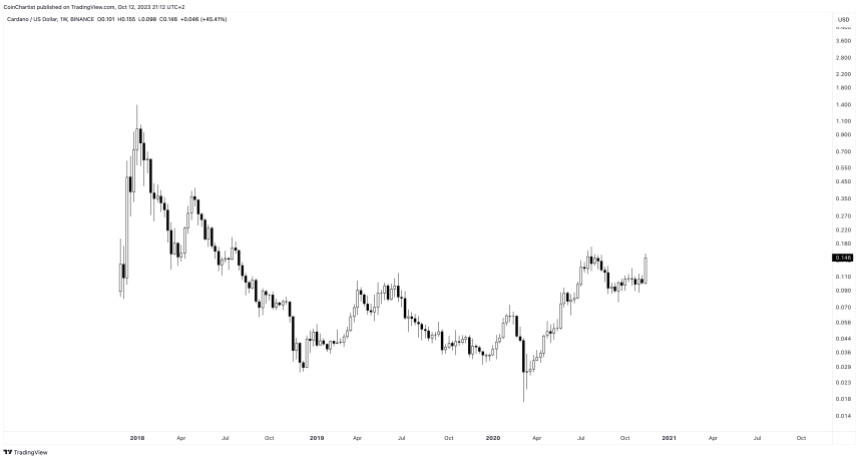 ADA faded from the spotlight during the 2018-2020 crypto bear market, with prices falling as low as $0.027 in March 2020. However, staking adoption grew steadily, reaching over 21 billion ADA staked by August 2020 and reducing supply pressure.
Despite price weakness, Cardano made major headway on technical improvements during this period away from the hype.
2021 – Explosive Growth Phase
As crypto markets returned to health in 2021, ADA went on a monumental run starting from $0.18 at beginning of the year and reaching an all-time high of $3.10 in September 2021 – a surge of over 15x within 8 months!
Several developments triggered this growth phase:
Launch of native tokens and smart contracts functionality, allowing DeFi and dApp development.

Listing on prominent exchanges like Coinbase increased investment access.

Investor confidence grew in Cardano's methodology after meeting roadmap targets.

Founder Charles Hoskinson's media interviews drove interest among retail investors.
This proved a breakout year for ADA establishing itself as a leading altcoin. Cardano ended 2021 at around $1.50.
2022 – Crypto Winter Survival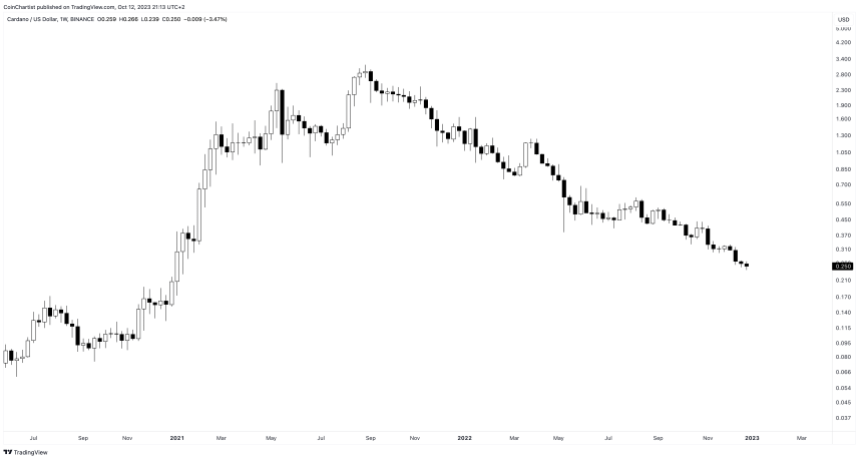 The 2022 crypto bear market was harsh on most altcoins including ADA, which fell to around $0.24 losing over 85% of its value from the peak.  However, Cardano maintained active development throughout 2022. Over 100 projects were building on Cardano by year end despite market conditions. This demonstrated strong ecosystem fundamentals.
Recent Cardano Price Analysis  
In 2023, ADA hasn't fared much better, making a lower low at around $0.22. It is currently trading at around $0.24 per token but is at risk of losing support of a descending triangle pattern.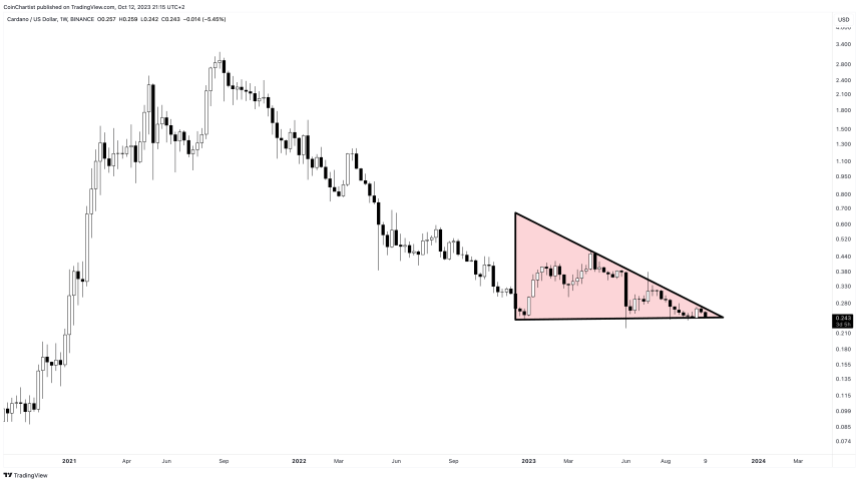 Short-Term Cardano Price Prediction For 2023
With less than 90 days left in 2023, Cardano has little hope for much higher prices, and investors should focus more on what happens if support is lost. Immediate short-term price predictions could even point to more downside, possibly falling as low $0.15 before the year is over.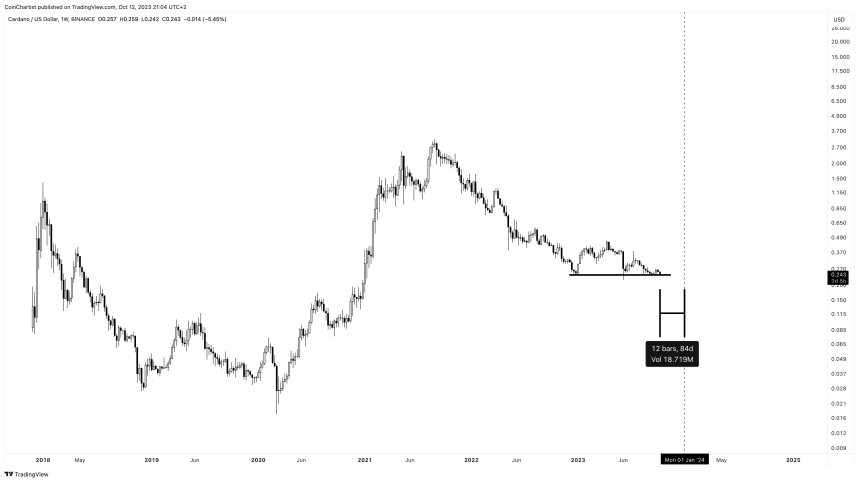 Medium-Term Cardano Price Forecast For 2024-2025
Once ADA finds a bottom, which could go as deep as $0.15 in the new year, the cryptocurrency market could finally be poised for a rebound. If these two years are positive for the cryptocurrency market, Cardano could find itself – shockingly – as much as $20 per ADA according to the Golden Ratio 1.618 Fibonacci.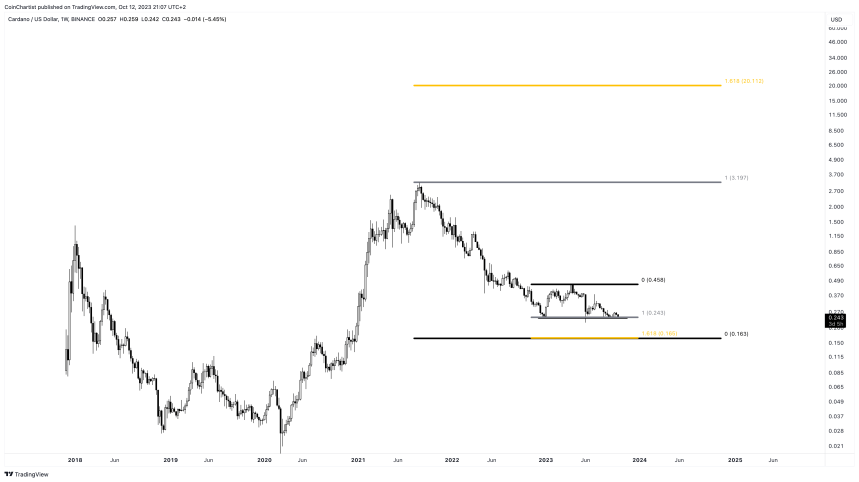 Long-Term Cardano Price Prediction For 2030 And Beyond
By 2030, Cardano intends to fulfill its goal of becoming the most developed blockchain platform. Assuming it achieves the vision, ADA has vast growth potential. If it maintains the long-term linear trajectory it is on, there are changes that Cardano can trade between $10 and $45 in the longer term.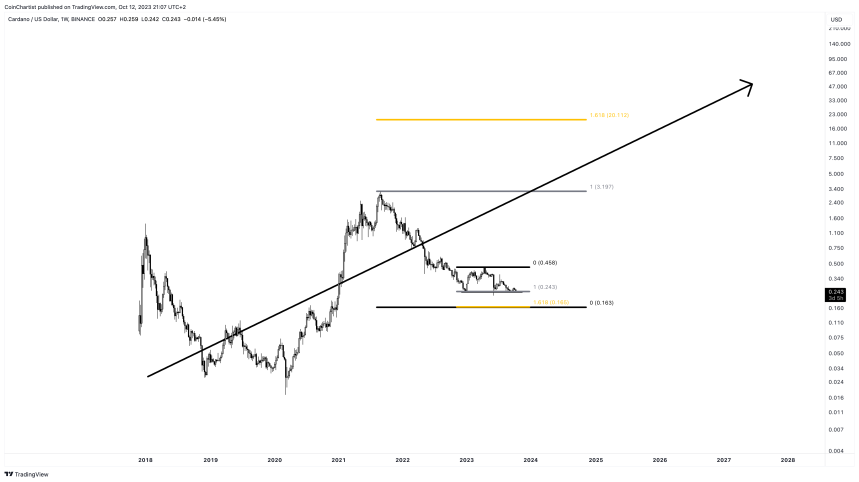 The next decade promises to be transformational for blockchain technology. If Cardano can cement itself as a leader, its long-term growth could be exponential. Patience and persistence are key.
Conclusion: Cardano Price Prediction
Cardano has established itself as a leading development-focused blockchain with the goal of becoming the backbone infrastructure for decentralized finance one day. While market conditions remain challenging currently, long-term growth prospects appear bright for Cardano by 2025 and beyond. Hitting development milestones will be crucial for justifying significant price appreciation in the future.
Cardano Price Prediction FAQs
Let's look at some common questions investors have about ADA price analysis:
What was Cardano's lowest price?
ADA sank to as low as $0.017 in the early stages after launch in 2017. During the 2022 and 2023 bear market, it dropped to around $0.22 which is the recent low.
What was the highest price for Cardano?
Cardano's all-time high price was $3.10 reached in September 2021 at the peak of the crypto bull run.
Is $10 possible for Cardano?
ADA reaching $10 is achievable if crypto adoption returns to rapid growth by 2025 and Cardano executes its ambitious roadmap. But $10+ seems unlikely in the near-term given current depressed market conditions.
Can Cardano crash to zero?
A complete crash to zero looks highly unlikely barring an existential catastrophe given Cardano's strong fundamentals. But an extended crypto winter could potentially push it below $0.10 until markets recover.
Why is ADA so volatile?
As with most cryptocurrencies, speculation and changing market sentiments contribute to ADA's volatility. As a top-10 token, it also experiences high trading activity and price swings.
When will Cardano's price stabilize?
ADA volatility should stabilize significantly if/when Cardano sees massive adoption as a blockchain solution used by enterprises, institutions and governments. But markets will likely remain turbulent for foreseeable future.