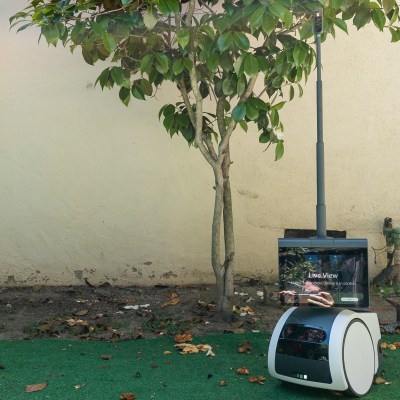 In an acknowledgement that cracking the home robotics market is hard, Amazon is bringing its Astro robot to a decidedly more corporate audience.
The company today announced Astro for Business, which repurposes Astro as a security robot for small- and medium-sized business customers. Astro for Business adds several new capabilities to Astro, including the ability to create multiple security monitoring routes and send alerts when the robot hears the sounds of smoke and carbon monoxide alarms or glass breaking.
"[T]raditional security solutions can be too static or expensive for what businesses need. We think Astro for Business can help with that," Anthony Robson, head of product for Amazon Astro, said in a canned statement.
Astro for Business isn't exactly cheap, though, starting at $2,349.99 — especially considering getting the full value out of the service requires subscribing to additional plans.
To save video history and sync Astro with Ring alarms and motion detectors, Astro for Business customers have to pay $20 per month for Ring Protect Pro. Astro's patrolling and alerting features, called Astro Secure, aren't gratis — they're $60 per month on their own. Human agent support and monitoring is $99 per month, and requires subscriptions to Ring Protect Pro and Astro Secure.
Astro for Business — which is only available in the U.S. at launch — does include a four-month trial of Ring Protect Pro and Astro Secure, but the costs will certainly add up.
Priced as high as it is, Astro for Business seems to be an attempt to extract what value Amazon can out of Astro, which was conspicuously absent from the company's annual devices and services showcase this year. Amazon's VP of consumer robotics, Ken Washington, recently departed, and Astro remains an invite-only product roughly two years after its unveiling.
"Even Amazon can't quite figure out what Astro is for," my colleague Haje wrote in an op-ed. Indeed.